Highlights:
· Gross 2P reserves of 13.3 billion cubic feet ('bcf') assigned to Selva Gas Field in northern Italy by independent geophysical services consultancy, CGG, representing the Company's maiden reserves via its 17% interest
· Equates to 2.26 bcf of net 2P reserves attributable to Prospex's 17% interest in the Podere Gallina Exploration Permit
· Reclassification of gross contingent resources follows successful drilling and testing of Podere Maiar well ('PM-1') in January 2018
· Selva is due to commence production in 2020 at a gross rate of up to 150,000 cubic metres per day
· Reserves are subject to the award of a Production Concession, for which preliminary approval has been granted  
· Combined additional prospective resources of up to 50bcf (100% best case) with 30-34% chance of success estimated for East Selva and Fondo Pierino prospects on Podere Gallina
Prospex Oil and Gas Plc, the AIM quoted investment company, is pleased to announce gross gas reserves ('2P') of 13.3 bcf for the Selva Malvezzi Gas Field ('Selva') in northern Italy, representing the first reserves for Prospex.  This follows the successful drilling and testing of the Podere Maiar 1 well in 2018 which informed a reclassification of previously reported gross contingent resources ('2C') by independent geophysical services consultancy, CGG Services (UK) Limited ('CGG') via a Competent Persons Report (CPR) for the co-venturers in Selva.  Selva sits within the 331km² Podere Gallina Exploration Permit (the 'Podere Gallina') in the Po Valley region of Italy.   Prospex holds a 17% interest in Podere Gallina, equating to net 2P reserves attributable to the Company of 2.26 bcf for Selva.  
Additional Prospectivity at Podere Gallina
Additional prospects have been identified within Podere Gallina, including the Selva East, Selva South Flank, Fondo Pierino and Riccardina structures.  The gross prospective resources are tabulated below: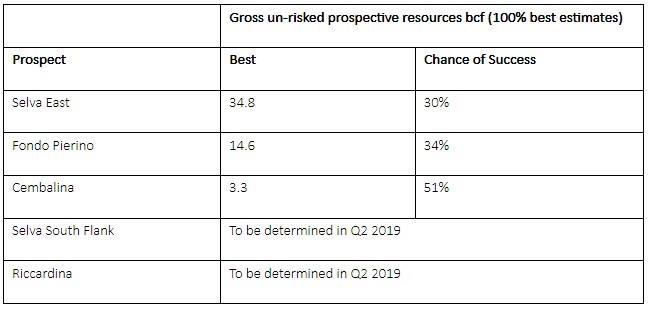 All the above structures are located within the Production Concession licence application area (the 'Production Concession'). Following the anticipated final grant of the Production Concession, East Selva will be a priority for drilling.  The chances for success at East Selva were significantly upgraded to 30% following the successful PM-1 well.

Prospex non-executive Chairman, Bill Smith, said, "Our 2.26bcf share of the Selva Gas Field's reserves represents another first for Prospex. While bringing the Bainet gas field in Romania online generated our first production and revenues in 2018, Selva is the first time that valuable reserves have been assigned to one of our projects by an independent third party.  Not only is this a major milestone for the Company, it provides Prospex with significant asset backing, particularly when compared to our current market valuation of approximately £3.3m. 

"In a short space of time, Prospex has been transformed from an investment company with a growing portfolio of interests in late stage European onshore projects, to one that is asset-backed and cash flow generative.  Thanks to an inventory of multiple targets across our existing portfolio, including the up to 2 Tcf Tesorillo Gas Project in southern Spain and a further 50bcf of prospective resources identified in Italy, we are well placed to build on our success to date, particularly as, in line with our investment criteria, all our projects hold historic discoveries and are located close to producing fields.  I look forward to providing further updates on our progress, as we focus on closing the disconnect between our share price and the value of our portfolio."